Free Ebook "Social Media for your Business"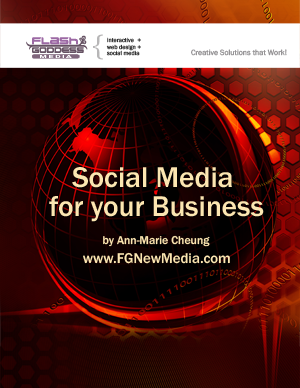 Sign up for our newsletter and receive a Free Ebook: Social Media for your Business which will educate you on the in's and out's of social media networks and services from Twitter to Facebook. We will discuss getting started with Social Media, essential tools, building a remarkable brand with Social Media and how to use Social Media for your business.

Subscribe to our newsletter

---
We respect your email privacy.
---
At Flash Goddess Media we help businesses create an attractive, effective online presence with a modern identity. We do this through website design and development, graphic design, and social media. We offer creative business solutions that work to help you gain more customers.
Are you an agency seeking a reliable, talented freelance creative? Do you have an occasional overflow of work that you'd like to outsource?
Are you a small or medium sized business looking for a professional website design or redesign?
Need some spectacular graphics for your business on Social Media?
Flash Goddess Media can help you, Contact Us today!
We are presently based in St Thomas, Ontario, Canada and serve clients globally.
---
Services Offered:
WEB
Website design, Flash animation, Web development – Flash, HTML, CSS
Wordpress design and development, Content Management Systems
E-mail newsletter / ad design, Banner ad design / animation
SOCIAL MEDIA
Social Media set up and graphics: Custom Facebook pages & timeline banners, custom Twitter backgrounds
MULTIMEDIA
Corporate PowerPoint presentations, Flash presentations
---