Website Design and Development
We have recently launched a new website for the Cobourg & District Seniors' "ENCORE" Club.
Since this non-profit organization was looking for something cost effective and easy to update we used WordPress as their Content Management System.
The Cobourg & District Seniors' "ENCORE" Club was launched officially in September 2012. Currently they have 227 members, engaged in 16 group activities that range from Line Dancing, Bridge, Tai Chi, Knitting, Belly Dancing and much more.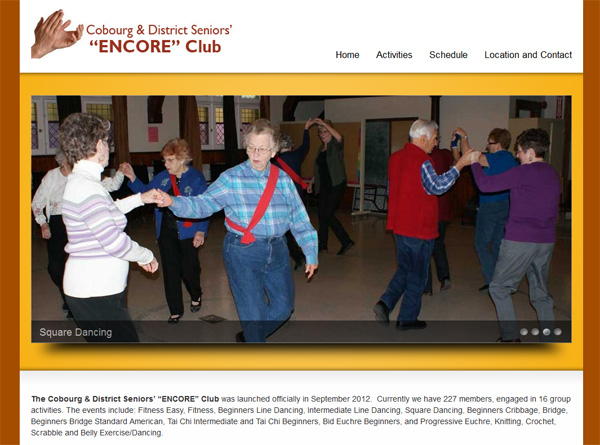 ---
Sacred Bliss Guided Meditations
We designed and developed this e-commerce website which sells audio meditation downloads.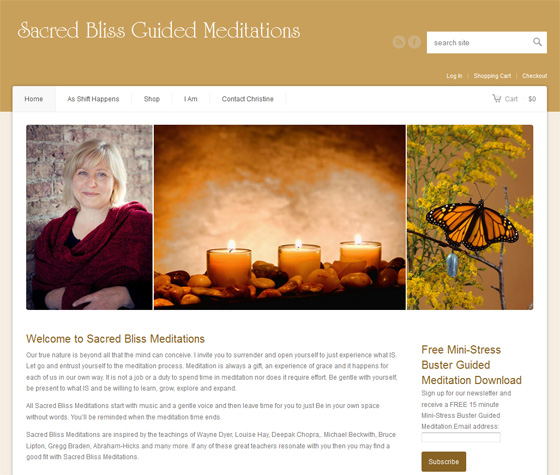 ---
HBBA Canada
We designed and set up the Home Based Business Association Canada website using Wild Apricot software. Features include:
Online member application form
Event calendar and registration
Discussion forums & blogs
Secure access with individual passwords to Members-Only Pages and Profile
Member self-service to update profile, register for events & renew memberships
Members-only content, such as premium research and member directory
Secure Administrative Access to Create & manage website pages with "Word-like" page editor
Update contact and member database
Manage financial records
Membership renewal automation
Event management
Send email blasts (newsletters)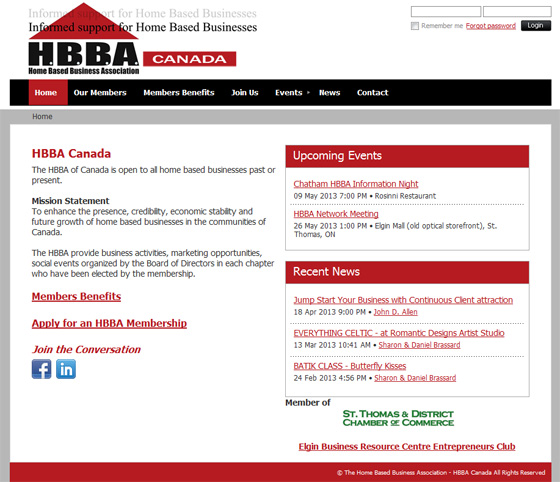 ---
Backhand Brands – It's not just a glove, it's a billboard!

When you boil it all down, we wondered why golf glove design has been the same for decades- four fingers and a thumb, a large Velcro closure, and of course, a small logo, typically that of the manufacturer? This results in little or no opportunity for you and your company to be recognized. Further, we asked ourselves, why not make a glove with applications way beyond the fairway?

Sometimes, size does matter!

Our patented closure design allows three times the branding space when compared to the status quo, because ultimately, at Backhand Brands, we're all about helping build your brand, not ours. Our premium quality gloves and creative package designs ensure a better fit for your hand, your game and your brand. If your goal is to increase your brand awareness, Backhand Brands is here. It's that simple.
Website: backhandbrands.com
Website design and development by FG New Media.
---
Elgin Business Women's Network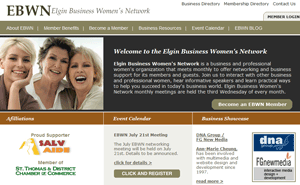 Elgin Business Women's Network is a business and professional women's organization that meets monthly to offer networking and business support for its members and guests. Join us to interact with other business and professional women, hear informative speakers and learn practical ways to help you succeed in today's business world.
The intention of the Elgin Business Network website is to inform the public of goods, services, companies and small business owners who are members of the EBWN and reside in St. Thomas & surrounding areas. The website is seen to be a valuable link to the community and is utilized on an on-going basis by fellow EBWN members. The website needed a refreshing new look to include a number of different variables to make it easy and accessible for the membership, the public and the volunteers.
We re-designed and up-dated the Elgin Business Women's Network website to allow easy access to member business information and to permit EBWN Administration Committee members to add event details, new pictures and updated information on a weekly basis
Website: www.ebwn.ca
Redesigned existing website.
Backend Programming using PHP and mySQL database, created Admin area.
Set up WordPress Blog and Facebook page.
---
Rohrer Consulting Corporation Inc. (RCC)


Website design and development included an availability calendar. Logo design and letterhead included in the project.
"Through a stroke of good luck I was introduced to Ann-Marie last summer (2009) when I was seeking a website designer for my Consulting / Mediation & ADR business. We discussed my requirements and she then went to work and created a truly professional and eye catching website. I have received many, many compliments from people who viewed the website she created, and it has been the direct cause of growth in my business. In addition to the above I found Ann-Marie to be a true professional in every sense of the word and an absolute pleasure to deal with. Our business relationship will continue in the future and I have absolutely no hesitation in recommending Ann-Marie to anyone seeking the services of a very talented and creative website designer."

J.(Bob) Rohrer
Mediator & Principal Rohrer Consulting Corporation Inc.
www.rohrerconsulting.com
---
The J-Space Global Flash website.
Programming was done by FG New Media.
Beautifully designed by Provoq.
---
Trillium Power Wind Corporation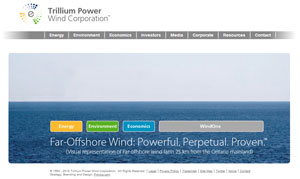 "Clean, reliable and affordable electricity for Ontario."
We created the Wind 1 Video animation for the the Trillium Power Wind website.
---
Facbook Business Pages
Did you know that there are more than 750 million active users on Facebook as of July 2011?
The average user has 130 friends and people spend over 700 billion minutes per month on Facebook. If your business does not have a Facebook page, you are missing out on a lot of potential connections. Facebook Business pages allow you to share pictures, videos, events and publish to the feed, that show up directly on your connections homepage. You can also promote and sell your products directly on Facebook! We can design and install an attractive, professional and impressive Facebook presence for your business. Please have a look at a few examples below:
---
"Client said that is the best FaceBook page she has ever seen! Congratulations on great work Ann-Marie!"
Bob McNaughton
Dog and Pony Productions Inc.
---
"As creator and manager of the EBWN's website, blog, facebook and linkedin profile, Ann-Marie has shown great expertise and professionalism. She is a gem to be associated with, as she invites us to interact and guides us thru the digital world to increases the social impact of individual members and Elgin Business Womens Network as a group. She empowers all of us."
Linda Crawford, Office Manager and Social Media Advisor at Jeff Yurek – PC Candidate for Elgin-Middlesex-London
---
---